Socialisation Dog Training in Geelong and Melbourne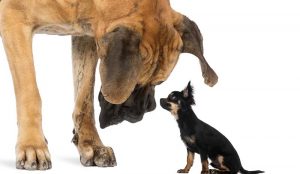 Socialisation is often misunderstood. It is more than simply how a dog gets on 'socially' with other dogs and people. It has more to do with the dog's ability to interact with all aspects of its environments in a balanced and controlled way.
Our targeted socialisation dog training, customised to each dog's specific problem becomes an integral part of any training process.
Many behavioural and obedience problems are caused by a lack of adequate socialisation at critical stages in a dog's life―for example, when in the litter, as a new pup in the home, or as a young adolescent dog. So, often, the root cause of a dog's problem is simply unknown to the owner.
Together with our Behavioural Control Dog, we isolate the core problem and teach your dog how to behave, socialise and react appropriately for any situation that it may encounter in real-life scenarios. That may involve overcoming fear, learning how to play appropriately with both humans and dogs, or just remaining calm and controlled around other dogs.
The rehabilitation of adopted rescue dogs is another of our specialist fields, and this type of socialisation dog training becomes essential.
Let us transform your dog into a happy, balanced and socialised dog that is confident and calm in any situation